☣Home.
☣Ask/Mssg.
☣About Me.
☣Fandoms.
☣Contact.
☣My Work
☣History.
☣Alt blogs.
☣Wishlist
☣TAGS
☣Current Activities.
You can call me Sherry The Horror Loli~ There be horror and dark stuff here.
I'm most passionate about oldschool survival horror video games, Shanks, & Princess Daisy. Resident Evil REmake is my favorite game of all time. Most of my posts are horror related. But I'll reblog and post out of that genre & subject sometimes. Like Nintendo, Magi, Black Butler, Yu-Gi-Oh!, Eyeshield 21, South Park, and other shit.

Skype: AkagamiShanksu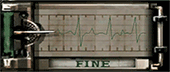 Ayato looks pretty young in the manga but in the anime…it's really hard to tell he's like 14-15. Like I saw a gif set of him in the anime on tumblr just now and I was like "Oh that looks cool. Guys with masks are awesome. I dunno what it's from though. I think I'll reblog——THAT IS AYATO"
The Evil Noblemen.
(via her-majestys-watchdog)
New SSR Claire Redfield for Biohazard Clan Master!

O M G!!!!!!!!!!!!!!!!!!!!!! I LOVE HERRRRRRRRRRRRR ASJHDSJAHDJAHSHAKJS
I can't tell if what I have is "red marks" or acne scars. I think I have at least a couple scars but my entire cheek is engulfed with something…I wish I could just go to a doctor and at least find out what it is.
A while back I made a post on miiverse in the form of a comic, illustrating my displeasure in gaming videos almost always having commentary. This huge game grumps fanatic found it and basically scolded me and tried to force me to change my mind and tried to tell me why commentary was good. I respectfully told her that I know why commentary can be fun but I was tired of gaming videos being so over saturated by commentary. And she just wouldn't stop telling me how my opinion was wrong. So I just blocked her because fuck it, I wasn't in the mood. 
Just found out like yesterday that she was 12 years old. No wonder she was so oblivious and adamant.
DON'T SAY IT 

DON'T FUCKING SAY IT
Best characters in the show. And they're fucking DEAD.