☣Home.
☣Ask/Mssg.
☣About Me.
☣Fandoms.
☣Contact.
☣My Work
☣History.
☣Alt blogs.
☣TAGS
You can call me Sherry the horror loli~ There be horror and dark stuff here.
I love Oldschool Resident Evil, Survival Horror, Horror animes/manga, films and TV, Shanks, Devil May Cry, Eyeshield 21, Princess Daisy, Disney, Hetalia, Yu-Gi-Oh!, Mortal Kombat, Darkstalkers, Nintendo, DC/Marvel, Game Of Thrones, American Horror Story, Gregory Horror Show, Lord Of The Rings, pirates, history, light guro, Quentin films, lolitas, Nazi aesthetics, etc.

Skype: AkagamiShanksu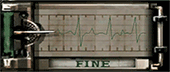 I might skip on Book Of Shadows because I don't know if I want to pay $20 for a visual novel. I'll just settle for the other one. I'll still get BOS eventually though
oh god damnit nintendo
Even in this day and age, video games can still be art
(via metallibutts)
In a way I sort of feel like Coven is my least favorite of the AHS seasons. Not that it's bad. But I prefer the other 2. Which is interesting cuz for a while I thought this could have ended up my favorite.
(Source: haskap)
Hulk Chris is soo hawt but i honestly find this Chris pretty sexy as well

I wonder if i am the only one?

We need self-cest pictures of this Chris and RE 5 Chris
you know tumblrs not an a+ community when you hesitate to post your own opinions on your own personal blog
(via leggomywaffle)
jim fucking carrey

jim fucking carrey

I love Jim Carrey. I once met him in a 7/11, and I was getting a soda, I turned and saw it was him, and he saw I was going for a Doctor Pepper, so he said "Oh did you want one of these", to which I stuttered out a yes and he grabbed all of them and said "too bad" and brought them up to the front. Then he bought his stuff and left the sodas there, and left. Almost immediately after, he ran back in and began putting the sodas back and paid for mine.
(via metallibutts)
Can there really be a God if they're making a 5th Pirates Of The Caribbean movie? Does Jack Sparrow even have any more milk left in him? He's running dry let the man just die already.
"a man shouldn't have to live on carbohydrates alone, complex or otherwise"
(Source: lawlieting, via sonyablade)