☣Home.
☣Ask/Mssg.
☣About Me.
☣Fandoms.
☣Contact.
☣My Work
☣History.
☣Alt blogs.
☣Wishlist.
☣Queued.
☣Current Activities.
☣TAGS.
You can call me Sherry The Horror Loli~ There be horror and dark stuff here.
I'm most passionate about oldschool survival horror video games, Shanks, & Princess Daisy. Resident Evil REmake is my favorite game of all time. Most of my posts are horror related. But I'll reblog and post out of that genre also. Like Nintendo, Magi, Black Butler, YGO!, Eyeshield 21, South Park, etc., and other shit.

Skype: AkagamiShanksu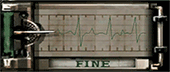 It's October bitches. The best month.
Hideki Kamiya explains Bayonetta 2 Wii U Exclusivity!

"I think I have discussed this many times before but here goes… First of all, we [Platinum Games] are developers and receive support from publishers by making games that they request or suggest. As for Bayonetta, we developed the game after signing a deal with SEGA. Later it was decided to also develop the sequel, so we started working on Bayonetta 2.

When development had progressed to a certain degree, in SEGA's situation it turned into "This isn't a good plan", so development halted temporarily. Without funding we didn't have the possibility to continue development, but we wanted to get this partially developed Bayonetta 2 available to the public one way or another. So we offered it to various publishers, but as it is a big title, we couldn't find a partner company. Finally, Bayonetta 2 was about to get terminated completely, when…

Nintendo came in and lent a hand and we were able to restart the development we so desired. Finally the game was released last week, so in five years, we were able to make Bayonetta 2 available to the public. Knowing those circumstances, if someone is still angry for heading towards Nintendo, I wonder what's the reason for that, wouldn't you tell me in a way that is easy to understand? As I have said earlier, if you want Bayonetta 2 on PS4 or Xbox One, how about trying to ask Nintendo… If Nintendo doesn't say yes, it's not going to happen… While you're at it, try asking for Mario and Zelda too…" said Hideki Kamiya
Elizabeth II playable in Smash Bros. 4 with various skins.
(via smashbrosuniverse)
Maybe the real story of the Pokemon anime is Ash is a immortal vampire who has been lonely for hundreds of years and now wishes to make as many friends as he can all around the world.
Now the newer Pokemon show is on. There isn't much of a nostalgia factor for the newer seasons to get me through this ugh. But I'll just leave it on while I babysit.
Didn't realize Iris already got replaced. -eyeroll- Christ.
Glancing at some show called Tenkai Knights. Aside from the CG these kind of shows like to do…I actually like the art style for the human characters
Skullgirls avatars on PSN. I'll nab one of them eventually. At least Peacock. Also there's an adorable baby alligator avatar.
Me and Jazz are watching more Futurama movies~
Palutena confirmed OP

I don't understand what's happening here

"To clarify what is happening here, Palutena's Reflect barrier both reverses and reflects (much like Mario's Cape). Despite the fact that the Villager is riding it, the Lloid Rocket is still a projectile. As a result Villager is reversed while the Lloid Rocket is reflected and once the rocket explodes it hurts Villager instead of the opponent." -SiLeNtDo0m
(via smashbrosuniverse)