☣Home.
☣Ask/Mssg.
☣About Me.
☣Fandoms.
☣Contact.
☣My Work
☣History.
☣Alt blogs.
☣Wishlist
☣TAGS
☣Current Activities.
You can call me Sherry The Horror Loli~ There be horror and dark stuff here.
I'm most passionate about oldschool survival horror video games, Shanks, & Princess Daisy. Resident Evil REmake is my favorite game of all time. Most of my posts are horror related. But I'll reblog and post out of that genre & subject sometimes. Like Nintendo, Magi, Black Butler, Yu-Gi-Oh!, Eyeshield 21, South Park, and other shit.

Skype: AkagamiShanksu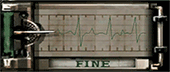 東京喰種 カネキマスクの作り方 その6

いよいよ仕上げです。

赤い合皮にファスナーを付け、歯のパーツと重ねて縫います。

それをフェイスに貼り付けたら、最後にワッシャーとゴム紐を付けて完成!

ゴム紐は眼帯側にホックを付けて固定できるようにしています。

自分の顔ぴったりのサイズ&リアルなマスクが出来上がりました。
(via anime-obsession)
Mom got me hyped for Boarderlands 2 because she randonly texted me and made it seem like she was interested in getting it for us to play but now she's like "I dunno if I can afford both".
Well shit. I could dip into my smash bros fund i guess.
I got my payment for babysitting. It's going to smash bros and the gamecube controller and adaptor. Woo
Volume 11 fairy tale omake (this is all of them).
Omg you can see both of the Bin Brother's haircuts
(Source: o-blessed-king-of-longing, via grifflth)