☣Home.
☣Ask/Mssg.
☣About Me.
☣Fandoms.
☣Contact.
☣My Work
☣History.
☣Alt blogs.
☣Wishlist
☣TAGS
You can call me Sherry The Horror Loli~ There be horror and dark stuff here. I am not a transparent troll! Definitely not!
I'm most passionate about oldschool survival horror video games. Resident Evil REmake is my favorite game of all time. Most of my posts are horror related. Primarily games and anime/manga. But I'll reblog and post out of that genre sometimes.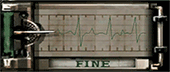 "As of this moment, Satsuki Kiryuin and Honnouji Academy are in rebellion against you! People do not live for the sake of clothing! I, Satsuki Kiryuin, am rising up to overthrow Life Fibers! Honnouji Academy is the fortress I created in order to defeat you!"
(Source: s-indria, via satsukikiryuinchan)
(Source: shiftingfordummies)
So I'm glancing at Tiger & Bunny episode 1. I'm not sure what it is….but it almost feels like it could be an American written show but with Japanese names and animation. And it's not just the whole super hero thing either. Something about the writing style…the camera and how it cuts?? Reminds me of The Incredibles which also coincidentally has to do with super heroes.
I dunno maybe I'm just delusional. This just seems really different from other animes I have seen.
Currently I'm neutral about this anime so far. How far in should I go to determine if it's meant for me or not? Hmm. I might put it on hold and try Steins;Gate really quick. Or Baccano!…Hmm..
I really like their song "Megitsune". 
Yall should add me on skype.
Next gen exclusivity makes me cry. Because I won't be able to upgrade for a long time.
yelp
Yes. Which type are you looking for? What systems do you have, etc.
BABYMETAL is a metal vocal and dance idol fusion group consisting of 16 year old Su-Metal (Suzuka Nakamoto 中元すず香) 14 year old YUIMETAL (Yui Mizuno 水野由結) and 14 year old MOAMETAL (Moa Kikuchi (菊地最愛)


The group first appeared on parent idol groups さくら学院 (Sakura Gakuin) debut album Sakura Gakuin 2010 Nendo ~message~ in April 2011, performing the track Do Ki Do Ki☆MORNING.

Their name, BABYMETAL (ベビーメタル, [bebiimetaru]) is a play on the Japanese pronunciation of "heavy metal" (ヘヴィメタル [heviimetaru]).

Definitely not your ordinary teenage idol group and definitely something you have to see to believe so you can watch the video for this song
メギツネ (MEGITSUNE) here.