☣Home.
☣Ask/Mssg.
☣About Me.
☣Fandoms.
☣Contact.
☣My Work
☣History.
☣Alt blogs.
☣Wishlist
☣TAGS
☣Current Activities.
You can call me Sherry The Horror Loli~ There be horror and dark stuff here.
I'm most passionate about oldschool survival horror video games, Shanks, & Princess Daisy. Resident Evil REmake is my favorite game of all time. Most of my posts are horror related. But I'll reblog and post out of that genre & subject sometimes. Like Nintendo, Magi, Black Butler, Yu-Gi-Oh!, Eyeshield 21, South Park, and other shit.

Skype: AkagamiShanksu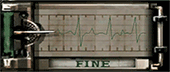 I tried making honey milk like Ciel likes but either I did something wrong…or the fact that I don't actually like honey that much came into play. 
Initially the plan from the beginning was to have my Dad try it cuz I figured he'd like it but even he wasn't a fan of it. I still think it's because I didn't add enough honey. I always had a feeling deep down I wouldn't like it too much though.
I'm basically going to reword what I've already said before.
Here's the reason why I love Thirteen Ghosts so much. Because it is basically R.L. Stine's Goosebumps or Are You Afraid Of The Dark type writing…but instead of being for kids with that obvious PG or G raiting, it's made for an adult audience. It has a childlike Halloween story feel to it. It's actually FUN. But horror so often isn't about that. At least now. It's all a bunch of overly serious torture flicks and ghost/exorcism stories. I want horror to try and be fun and tap into our inner child. If you want to have a better understanding of what I mean try and look for the movie Thirteen Ghosts on amazon or ebay. It's really cheap.
I love Hobby Hobby, don't you love Hobby Hobby?
Oh turns out there is an actual reason why my phone has a fuzzy blue/red effect in my pics. Its because HTC Ones have that as a common issue. Im not the only one.