☣Home.
☣Ask/Mssg.
☣About Me.
☣Fandoms.
☣Contact.
☣My Work
☣History.
☣Alt blogs.
☣Wishlist.
☣Queued.
☣Current Activities.
☣TAGS.
You can call me Sherry The Horror Loli~ There be horror and dark stuff here.
I'm most passionate about oldschool survival horror video games, Shanks, & Princess Daisy. Resident Evil REmake is my favorite game of all time. Most of my posts are horror related. But I'll reblog and post out of that genre also. Like Nintendo, Magi, Black Butler, YGO!, Eyeshield 21, South Park, etc., and other shit.

Skype: AkagamiShanksu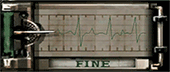 She's been my main ever since she first appeared in Melee. I remember being a kid and finding out Peach was going to be in the smash Bros sequel and I thought that was so cool.
Ok I think I'm going to try doing some sketchy side commissions to make some side money so I can afford this figure I want before the price goes up on it. I don't think I will have a fixed price so I'm willing to work something out with anyone who is interested. It depends on what you want but these are typicalyl what I'm going to be doing. Simple sketchy stuff. If you're interested message me.
I made a human Kirby. Even though Kirby games are considered casual, they have some hardcore music man.
I used to draw Resident Evil all the time
shitty doodle of me. i love my hair tbh. the two front side bangs are always longer than the back of my hair and yay
S-sorry I dunno how to draw bulges. Or at all
A WIP in honor of Peachie who has always been my main since she first entered the series starting with Melee. And I of course will be using her in the new game but I'm also going to attempt to vary the characters I use this time more so than I used to.
This is me and my 2 best friends. Jazz and Shayla and I love them so much
The characters I plan to use in Smash Bros 4. I can't draw Yoshi.
I haven't drawn her in a while. It feels weird whenever I upload my art on my spam blogs (This being my DC/Marvel spam blog) but whatever
Reblogging from my DC/Marvel spam blog. Honestly Batman related stuff would suit my personal blog so much but because I like tons of other DC stuff I just..I don't want to spam my personal so thus why it has it's own blog bleh