☣Home.
☣Ask/Mssg.
☣About Me.
☣Fandoms.
☣Contact.
☣My Work
☣History.
☣Alt blogs.
☣Wishlist
☣TAGS
☣Current Activities.
You can call me Sherry The Horror Loli~ There be horror and dark stuff here.
I'm most passionate about oldschool survival horror video games, Shanks, & Princess Daisy. Resident Evil REmake is my favorite game of all time. Most of my posts are horror related. But I'll reblog and post out of that genre & subject sometimes. Like Nintendo, Magi, Black Butler, Yu-Gi-Oh!, Eyeshield 21, South Park, and other shit.

Skype: AkagamiShanksu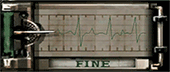 Some non miiverse Bin Bro doodles. Woo.
Also I pretty much decided that they are my #1 fav even over Ayato.
The only non comics I've done on miiverse so far. I'm getting the hand of drawn the Bin bros. At least in doodle form. I dunno if I could ever draw them seriously.
Tokyo Ghoul: What actually happened 
Suddenly I started making Tokyo Ghoul comics on Miiverse. 
This is after the standoff with Yamori
WOW LOOK AT THOSE HANDS. they're badly drawn but i did that on purpose because his bones are broke. just kidding im just really bad
just a shitty doodle of Snake's shitty childhood.
Finished swim suit Rosalina! I also have a Daisy and Peach one sitting around that I will eventually work on. Eventually…
Rosalina WIP
Current Rosalina WIP