☣Home.
☣Ask/Mssg.
☣About Me.
☣Fandoms.
☣Contact.
☣My Work
☣History.
☣Alt blogs.
☣Wishlist
☣TAGS
You can call me Sherry The Horror Loli~ There be horror and dark stuff here. I am not a transparent troll! Definitely not!
I'm most passionate about oldschool survival horror video games. Resident Evil REmake is my favorite game of all time. Most of my posts are horror related. Primarily games and anime/manga. But I'll reblog and post out of that genre sometimes.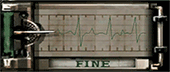 I really like their song "Megitsune". 
Before my Animal Crossing OCs, these were my main OCs. They're who I'd use if I ever created a shounen manga. 
To this day they still don't have names except for lazy code names. Pheonix for the little girl, black widow for the girl with the scarf…and the girl in the middle has never really had an official code nam. I called her african maiden at first but that doesn't really suit her well.
The girl in the back used to be way sluttier. she used to wear red bathing suit bottoms. Now she wears pants like a normal person. Middle girl used to dress a bit more feminine but I made her dress to match her personality which is a tomb boy. And the little girl used to wear just a raggy red shirt that was long enough to basically be a dress but now I've upgraded it to a jacket. 
Ah making banners is pretty fun. This is a commission I did for Gen for her FB banner. She's a cosplayer, gamer, writer, and radio personality. She writes for nerdreactor and has a FB page so check her out maybe. 
Commission for my friend. I procrastinated a lot to finish this because I normally don't draw many characters in one single picture like this so I was like "ugh…work"
Little Morrigan from my 4 character commission for my friend. I just reeeeally like how she turned out
Nicolas Cage Brown sketches I did like a week ago. The first is a genderbent young Nicolas
WIP young Nicolas Brown genderbender I'm working on
Ok I finished my genderbent Kizami. With an without blood woo~ I might do a black and white (with red) version too.
Rpers that call themselves "Official" or "Actual"

"Fuck u say punk" barked Lady Bow as she unfurled her custom made fan, adorned with an image of Yowane Haku throwing up, and spat a glob of tobacco on the floor angrily. "I am the real Lady Bow."

Fuck i forgot.

Bitch i called your elitist ass out wanna fight about it

If you're so tough, draw an image of your OC murdering Lady Bow.