☣Home.
☣Ask/Mssg.
☣About Me.
☣Fandoms.
☣Contact.
☣My Work
☣History.
☣Alt blogs.
☣TAGS
You can call me Sherry the horror loli~ There be horror and dark stuff here.
I love Oldschool Resident Evil, Survival Horror, Horror animes/manga, films and TV, Shanks, Devil May Cry, Eyeshield 21, Princess Daisy, Disney, Hetalia, Yu-Gi-Oh!, Mortal Kombat, Darkstalkers, Nintendo, DC/Marvel, Game Of Thrones, American Horror Story, Gregory Horror Show, Lord Of The Rings, pirates, history, light guro, Quentin films, lolitas, Nazi aesthetics, etc.

Skype: AkagamiShanksu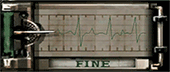 Shayla's ugly furry OC,
RE comic 2 for whatward~
RE comic 1 for Whatward!
Juri sketch.
edit: The foot is messed up. will need to fix
I made shitty Jill Valentine hentai
Yay self doodle portraits. People always say life gets better. I actually think it's the opposite for me. I've pretty much given up on everyone and everything. Fuck life and everything else
So I watched Super Best Friends (Mat, Woolie, Liam) play the abomination that is Shadow The Hedgehog. And the end result is me being in a Sonic mood now. The last time I made a Sonic OC for myself it was a stupid gothic kitty. Pretty sure I deleted it from everywhere but who knows…This time I thought I'd draw myself as my favorite animal. A crocodile. Designing reptiles is pretty hard for someone like myself because it's hard to add hair to them without it seeming a little awkward…And I LOVE drawing hair so…
Anyway you can call this Daisy the Crocodile I guess.
Edit: I recolored over it and made everything kinda darker. I love both versions though.