☣Home.
☣Ask/Mssg.
☣About Me.
☣Fandoms.
☣Contact.
☣My Work
☣History.
☣Alt blogs.
☣Wishlist
☣TAGS
You can call me Sherry The Horror Loli~ There be horror and dark stuff here.
I'm most passionate about oldschool survival horror video games. Resident Evil REmake is my favorite game of all time. Most of my posts are horror related. Primarily games and anime/manga. But I'll reblog and post out of that genre & subject sometimes. Like Magi, South Park, and other shit.

Skype: AkagamiShanksu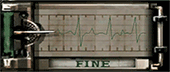 Shayla commissioned me to do a little drawing of weskerz cosplaying Stan. (It really just looks like Stan tho lol)
More South Park cosplay stuff for Shayla. She asked for her cosplaying kenny and also for one of her and jazz cosplaying terrance and phillip in kraft dinner
Shayla is having me draw all of us cosplaying South Park characters. Normally I draw this style more sketchy and sloppy looking cuz it's way quicker…but then I realized about 1/3 in this that the lineart was too clean so I had to color it cleanly too. Ugh. 
So I ended up becoming one of those people who likes South Park yaoi and seeing it drawn in anime style. I never thought it'd happen but that's literally what I've become this very day. (Well technically yesterday. It's 1am) This is all weskerz' fault.
Some Assassin School scribbles
TraumaticSherry's $5-$8 commissions. 
I don't know if anyone will be interested but I guess I could try doing commissions. This is my current style. 
Just lineart will be $5

Colored (Like the last one) will be $8
Message me if you're interested I guess.
Started offering to do commission doodles for $5 ($8 if colored) and onehugetampon was the first to commission me woo.
Assassin School one shot. I might do more